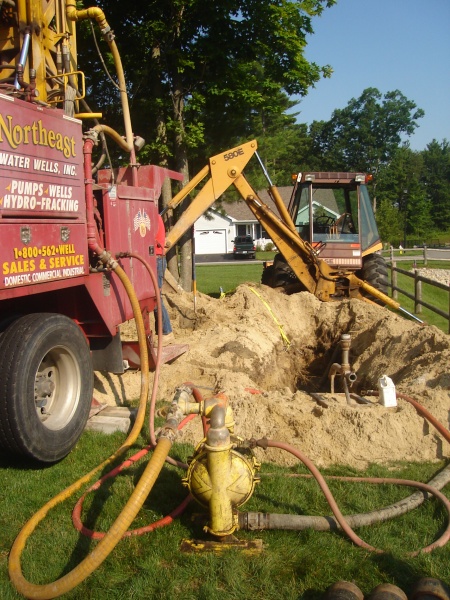 Bob Haynes of Marlborough MA was married and had three children. A childhood friend came to him and asked him if he would be interested in a job drilling wells in NH. He accepted and went to work for A. E. Dionne, Inc. in Pelham NH. Eventually Al Dionne left the area and moved to Wyoming. Bob and his friend Don started a new company, what is now known as Northeast Water Wells Inc in 1966. Don made the decision to leave Northeast and Relocate his family to Florida shortly after the business was established.
After each of Bob's three children graduated from High School they began to work for the company. David and Joseph (Bob's two sons) began on the drill rig and Paula (his daughter) ran the office. Eventually Robert retired in 1990 but still acts as a consultant to this day. David took over as Operations Manger and ran the pump installation crew. Joseph Manages the drilling operation and still does to this day. Paula ran the office for a number of years but left Northeast is 2001 to pursue her own interests.
David and Joseph ran Northeast Water Wells as partners with the help of Office Manager Clifford Connolly until 2009. In February of 2009 David passed from Rectal cancer after a five year battle with the disease. His loss is irreplaceable not only in Northeast but in the Well industry as a whole.
Today Northeast is Run by president Joseph R. Haynes along with his niece (David's daughter) Ashley E. Connolly along with her husband Clifford E. Connolly. Northeast Water Wells Inc is proud to be a third generation company dedicated to the water industry since 1966 and continues to provide the same exceptional service as it has since the first day it opened.
"We install the finest water systems money can buy!"
-Robert D. Haynes, Founder
Operational:
All of our employees are hand picked and personally trained, making for an elite team of professional specialists. Northeast Water Wells Inc has very strict employee policies including but not limited to the following; a detailed safety policy, OSHA 10, A No Tolerance Drug and Alcohol Policy managed by a third party compliance company, routine background checks, Confined Space Training and driving record checks. The safety of not only our employees but also our clients is our top priority. Our employees are required to submit proof of 2- 4 continuing education hours each year insuring that they are up to date on all recent technology. The Haynes Family has been bringing quality water systems to homes around New England for over 45 years. Our main focus is to treat your families and businesses the way we would want our families and business treated.
We are fully insured and licensed:
Massachusetts licensing information:
Joseph R. Haynes
Massachusetts license number: 762
New Hampshire licensing information:
Joseph R. Haynes
Drillers license: 59
Clifford E. Connolly
Pump Installers license :60
Ashley E. Connolly
Water Works Operator Combined Grade 1A Certificate Number : 3159
Additionally, we are proud members of the following professional organizations:
New England Water Works Association
New Hampshire water works association
Massachusetts Water Works Association
American Water Works Association
Massachusetts Ground Water Association
National Ground Water Association